Feel Better, Increase Energy, Lose Weight
Like many of us, I have done different detoxes over the years. Some have been successful, some not. Most have been difficult to follow because they were either inconvenient, always hungry or tired or just plain uncomfortable. In addition, I didn't always feel I could actually see more than temporary changes.
The 5-Day Reset is the first one I have used that was easy to follow, NO cravings, gave me energy and focus, and actually reset my metabolism to be what is right for my body. For me, that is a "set" point of 3-4 pounds lower (those pesky 5 lbs have finally left). This means that, even if I have a "bad" day, within one day I am back to my "set" point.
I choose the Shaklee products for this because I know they are consistent, pure and in the right combination to work correctly.
Lots of recipes are available for yummy shakes.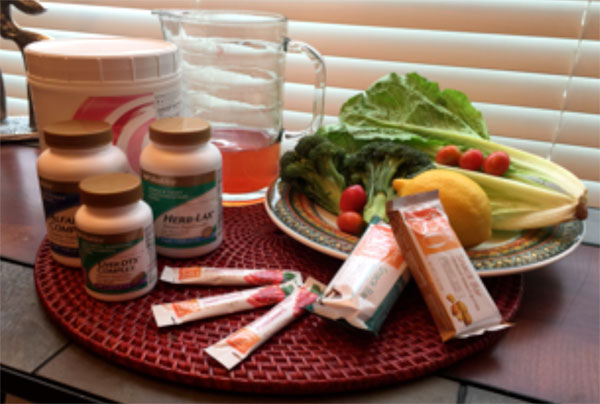 Here is the simple plan to follow:
Wake-Up Detox Drink
Drink Detox Tea (30 minutes before eating breakfast if you can)
16 oz. water (hot, cold or room temperature)
Add 1/2 squeezed lemon or lime
Add 1 package of Shaklee 180 Energy Tea
Optional: 1 scoop Performance and/or
Breakfast
Life Plan Smoothie
5 Alfalfa
1-4 Liver DTX
Optional: Vitalizer Strip
Snack
-Unlimited Organic raw veggies
180 Snack Bar
Hummus or
Hardboiled egg
Lunch
Life Plan Smoothie
Snack
180 Snack Bar or
Hummus or
Hardboiled egg
Unlimited Organic raw veggies
Dinner
Life Plan Smoothie
Organic Salad
5 Alfalfa
2 Liver DTX
2 Herb-Lax (1-4, depending on your own bowel habits – the goal is to go 2 times a day)
Lemon Water All Day
Interested in getting started?  Except for the shakes, the supplements will last you for at least a month.  I recommend using them even after the 5 days are over to continue the reset and connecting with me.  I look forward to hearing your results!!
Every Package comes with:
Here are your smoothie options:
Package 1 with Vanilla Soy Life Plan shake – 15 servings
Package 2 with Chocolate Soy Life Plan shake – 15 serving
Package 3 with Strawberry Soy Life Plan shake – 15 servings
Package 4 with Cafe Latte Soy Life Plan shake – 15 servings
          Retail price with soy shakes                   $175.58
            Package 5 with Non-soy Vanilla Life Plan shake -15 servings
            Package 6 with Non-soy Chocolate Life Plan shake – 15 servings
                           Retail price with non-soy shakes           $187.10
Shaklee offers a consumer membership that saves 15% on all products. The LIFETIME membership is just $19.95. You can use your membership discount on over 200 healthy products!
If you purchase your membership today, the following discounted package prices apply.
                       Member price with soy shakes              $159.05
                       Member price with non-soy shakes      $149.20
Click on one of the buttons below to learn more about the options and add to cart.